We have been bringing our Airedale Cairo to Puppy Paradise for over a year now. They do a fantastic job on her every time, are open to small changes in her cut that we may ask for, and she is always so excited to go there! Thank you for taking such good care of Cairo :)
- Michelle (Cairo)
Love the daycare. It's a small environment which doesn't overwhelm my little guy. Also love the flexibility in hours of drop off and pick up which works well with my schedule.
- Jennifer (Bella)
Took our 4 legged babies to Puppy Paradise for the first time to get them groomed after someone at the dog park recommended them, best decision we ever did. The haircut was absolutely perfect, beyond our expectations. The owner/groomer took his time to go through every detail with us when we dropped the dogs off. We recommended PP to all our family and friends with fur babies, we just cannot say enough good things about it. We will never go anywhere else but Puppy Paradise from now on. Thank you Puppy Paradise!!!
- Samantha (Sumo & Chewy)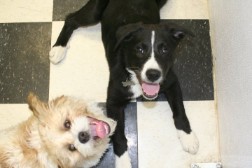 Tell us what you think...